:: About Jeju (Cheju)

LOCATION

Jeju island (Jejudo) is a volcanic island located in the southwest sea of the Korean peninsula and the north sea on the east part of China (longitude: 126°E, latitude: 33–34°N). The size of Jeju is 73 km (45.3 mi) from east to west, and 41 km (25.4 mi) from north to south (the largest island in Korea). There are 263 km (163.4 mi) of seashore, making the island an oval shape.The island has an area of 1,845 km2 (712.4 mi2) with a circuit road of 182 km (113 mi) along the seashore. (Detailed Jeju maps)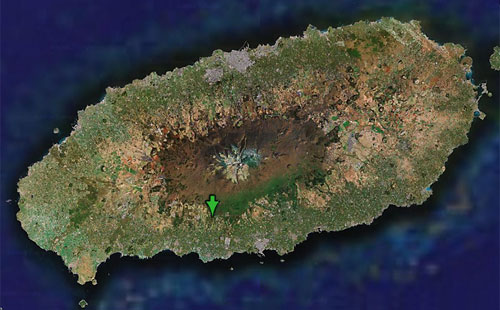 ©Google maps
In the center of the island is Halla mountain rising up to 1,950 m (6,397ft). There are gentle slopes to the east and west and steep slopes to the north and south.

INDUSTRY

• Agriculture focusing on tangerine farming
• Developing domestic and foreign conference industries
• Developing service industries such as lodging and tourism

POPULATION

• 559,747 people / 204,635 households

FREE INTERNATIONAL CITY

• Jeju was designated as a Free International City by the Korean government in December 2001


- Over $30 billion to be invested in tourism industries by 2011
• Increased number of Visa-waiver countries (168 countries to 180 countries)
• Offers various incentives such as tax cuts for domestic and foreign investors

- Medical, educational and high-tech industries also included as part of the
investment promotion districts
- Lowered the minimum investment level from: $10 million to $5 million
- Extended local tax cut period: 5 years to 10 years

ENVIRONMENT

• UNESCO designated Jeju as a "Biosphere Reserve"
| | |
| --- | --- |
| | Jeju has a Biosphere Reserve in the center of the island. Its core area is composed of Mt. Halla National Park, two rivers and three uninhabited islands. From a biological aspect, the island's biodiversity is regarded as a unique and valuable scientific resource. In addition, approximately 7,500 people reside in this Biosphere Reserve and make their living in tourism, ranching and agricultural industries. |
• 137 national treasures and approximately 1,800 wild plants.
• Jeju as a city of health and well-being designated by WHO (World Heath Organization).
• Various ecosystems are distributed on Mt. Halla depending on the altitude. These are home to endangered and native animal and plant species. 'Haenyeo', diving women, continue to cherish and pass on their unique profession, lifestyle and culture.
• There are 368 volcanically formed cinder cones called 'Oreum'. They are dispersed throughout Jeju boasting an exotic scenery (currently being screened to be listed as UNESCO World Natural Heritage).
• Together with its beautiful scenic sights, Jeju possesses important geographical features related to volcanic activities and the resulting geologically interesting environments.

ISLAND OF WORLD PEACE

• Designated as an Island of World Peace by the Korean government in January 2005.
• Region frequented by world leaders: President Clinton from USA, President Gorbachev of Russia, Chairman Jiang Zemin of China, Prime Minister Koizumi of Japan, just to name a few.
• Historically, Jeju has always had a tradition of peace. The Sammu (three absences) spirit of having no thieves, gates or beggars, represents peace.
• Place for peace and interchange for the Korean peninsula and Northeast Asia.

Starting with the Korea-Russia summit talks in Jeju in 1991, then Japanese Prime Minister Koizumi, President Noh Moo-hyun and other heads of states had summit talks in Jeju, projecting the world the image of Jeju as an island of peace.
In addition, Jeju is actively conducting programs for peace such as the 'Tangerine Drive for North Korea' and 'South and North Korea Peace Festival' since 1998 and 2003 respectively.
• Peace Exhibits: Center of Education and Research


| | |
| --- | --- |
| | The Jeju Peace Forum, which has been held since 2001 biannually, is helping Jeju grow as a center of peace talks for Northeast Asia. Also, the Jeju International Peace Center, which commemorates the visit of world leaders to Jeju, was opened on September 22, 2006. |
---
For more detailed information, click on the link below:
• About Korea: http://www.korea.net/korea
• About Jeju: http://www.chejuinfo.net and http://www.Jejueco.com